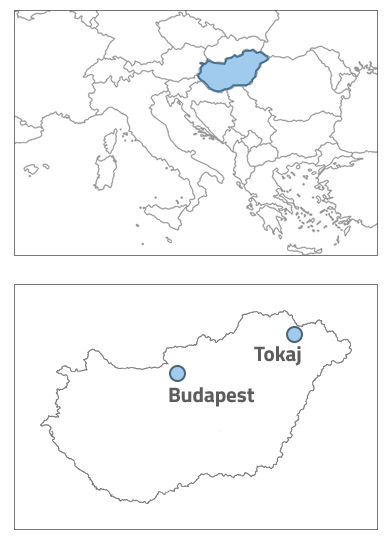 The majority of Royal Tokaji's vineyards are in the Mád commune. These include the First Growths – Szt. Tamás, Nyulászó, Betsek, and the Second Growth Birsalmás. Royal Tokaji's Mézes Mály vineyard – a Great First Growth – lies within the Tarcal commune.
At the end of the 17th century, Tokaji aszú wines were so well regarded throughout the Courts of Europe that Prince Rákóczi insisted on a classification of the finest vineyards around the 28 villages in the region into: Great First Growths, First Growths, Second Growths and Third Growths.
For over 300 years this special terroir has benefited from Botrytis to produce world class wines.
Soils are largely clay or loess with a volcanic substratum. Vines are approx 20 years old. Yields are kept to 10 hectoliters per hectare. One vine yields approx one glass of wine.
Main grape varieties in the region:
Furmint
Approx 70% of plantings in the region. A variety with very high levels of tartaric acid which is particularly susceptible to Botrytis.
Hárslevelű (linden-leaf)
Approx 25% of plantings. Less susceptible to Botrytis but rich in sugars and aromas.
Yellow Muscat
Approx 5% of plantings. The most difficult grape to grow but important seasoning.